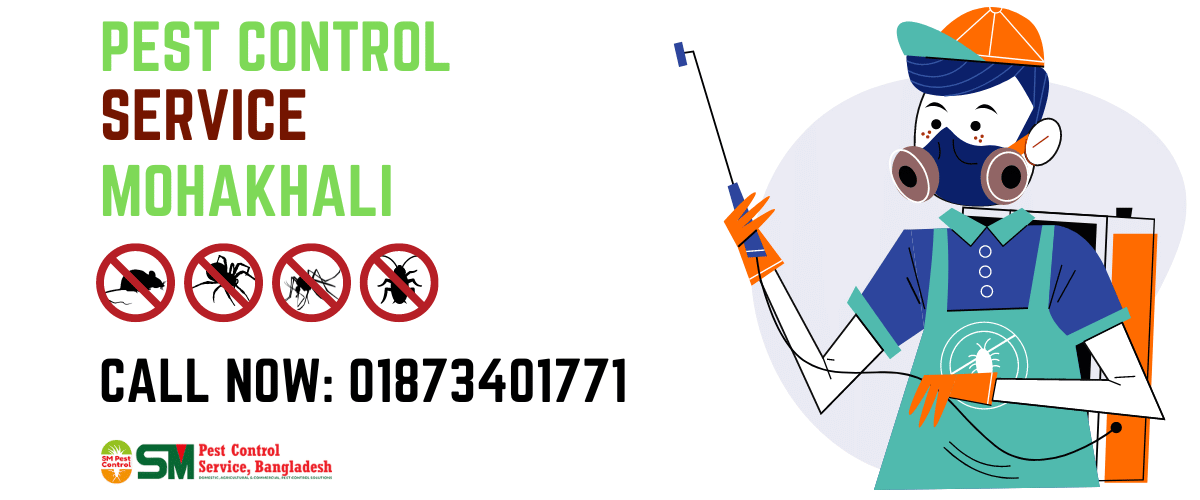 Pest Control Service in Mohakhali
Are you struggling with unwelcome pests in your home or workplace in Mohakhali? Take control now! SM Pest Control Services has a proven track record of delivering exceptional pest control services in Mohakhali for over 15 years. Our team of proficient technicians is committed to using environmentally friendly and efficient methods to address pest issues, ensuring the safety and well-being of your loved ones and colleagues.
পেস্ট কন্ট্রোল সার্ভিস নিতে যোগাযোগ করুন
Our Pest Control Services in Mohakhali:
Residential Pest Control: Your home should be a haven of comfort and health, free from disruptive pests. SM Pest Control Services provides comprehensive residential pest control solutions to combat various pests such as cockroaches, ants, bed bugs, termites, rodents, and more. Our personalized treatments ensure a pest-free living environment for your family.
Commercial Pest Control: A pest-infested workplace can negatively affect your business's reputation and efficiency. We offer tailored commercial pest control services in Mohakhali for a broad range of industries, including hospitality, retail, healthcare, and food processing. Our integrated pest management strategy emphasizes prevention, inspection, and effective treatment to create a pest-free workspace.
Termite Control: Termites are infamous for causing severe structural damage to buildings and homes. Our termite control services in Mohakhali include comprehensive inspections, treatment, and ongoing monitoring to safeguard your property from these destructive pests.
Rodent Control: Rodents pose a risk to both health and property. Our rodent control services in Mohakhali employ cutting-edge techniques to locate the source of infestation, eradicate the rodents, and prevent future occurrences.
Why Choose SM Pest Control Services in Mohakhali?
Over 15 years of experience in delivering pest control services in Mohakhali
Highly trained and certified technicians
Environmentally friendly and safe treatments
Customized solutions for both residential and commercial clients
Competitive pricing and flexible scheduling
Outstanding customer support and follow-up services
Don't let pests compromise your peace of mind! Rely on the experts at SM Pest Control Services in Mohakhali to manage all your pest control needs. With our vast experience, expertise, and dedication to customer satisfaction, your home or office will be pest-free in no time.
Contact us today to schedule a free consultation and embark on the journey towards a pest-free environment in Mohakhali. Remember, SM Pest Control Services has been proudly serving Mohakhali for the past 15 years, and we're here to help you.